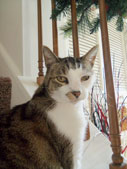 In Loving Memory of Sam
April 19, 1997- February 19, 2012
Sam it is going to be so hard to be without you. For the past 14 years you have been the best cat, companion and buddy any cat could ever be. I know there will never be another Sam, you had your own little personality and that is what made you so special to us. We are going to miss the middle of the night head butts you gave us to get us to rub your head or just give you some attention. The middle of the night playtimes with Stephen when he was home with you, and so many of the wonderful memories and fun times we have been able to have with you in 14 years. The great Christmas mornings when you would get on the back of the couch and just wait for your presents, the days when you would go out one door only to come right back in another door. You had us trained real well and we loved every minute of it. We miss you now and always will , you were one of a kind and you will always be loved. We love you Sam .
Your family , Ernie, Linda, Stephen and Shellie
We will always love you and miss you!
http://www.faithfulcompanion.com.php56-14.ord1-1.websitetestlink.com/wp-content/uploads/formidable/sam2202012.jpg
169
127
fcmadmin
http://www.faithfulcompanion.com.php56-14.ord1-1.websitetestlink.com/wp-content/uploads/2017/06/faithful-companion.png
fcmadmin
2012-04-23 12:05:41
2012-04-23 12:05:41
Sam