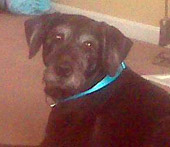 Born February of 1997, left us for Heaven on 3/14/11.
When we brought Hannah home for the first time, she was an 8 pound ball of energy. We knew we would have our hands full. She was fun, spunky, smart and above all, cuter than a button. We fell in love with her right away.
She quickly became a part of our family in every way. She loved going for walks, car rides, going to the groomers, playing with her toys and enjoying a cat nap on a lazy and rainy afternoon.
Hannah was overall a healthy and fit dog, She passed her physicals with flying colors. A month before her 14th birthday, we started to notice blood coming from her nose. We took her into the vet and were saddened to hear that she had a nasal tumor. We spent the next few weeks giving her extra special attention and spoiling her as much as we could. She did well for a while and then one day she stopped eating and began to lose weight very fast. She couldn't sleep, stand for periods at a time and overall just looked miserable. She was tired and we could see in her eyes that she had enough and was ready to be at peace.
On 3/14/2011, we said good bye to our family companion and friend. We hold so many special memories with Hannah and she will never be forgotten. She holds a very special place in our family's heart and her memory will live on forever.
We love you Hannah, "Chuppy"
http://www.faithfulcompanion.com.php56-14.ord1-1.websitetestlink.com/wp-content/uploads/formidable/hannah.jpg
147
170
fcmadmin
http://www.faithfulcompanion.com.php56-14.ord1-1.websitetestlink.com/wp-content/uploads/2017/06/faithful-companion.png
fcmadmin
2012-04-23 10:29:50
2012-04-23 10:29:50
Hannah