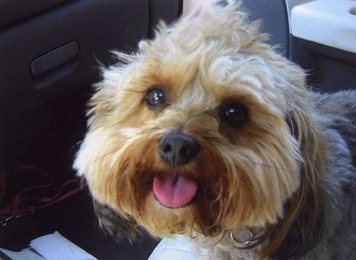 "Gracie Sue's life began on March 26, 2001. She was born to a family of Daisy Dogs and was fluffy and scruffy and endlessly sweet through and through. Her gentle spirit and her big brown eyes were immediately apparent to everyone who met her. She certainly made herself known to our family the day she was chosen from all the puppies in the kennel. She sat back from the others, hunched on her rounded little bottom, and looked right up at us as if to say, ""What about me? I'd be good."" And, as they say, the rest is history.
As a puppy she was all black except for small white patches on her feet. You could hardly tell one end of her from the other except for her cute little pink tongue. Gracie quickly adjusted to life around the house and in the neighborhood. She loved seeing people and craved their love and affection. And she returned that love and affection many times over.
What a little snuggler she was. If you sat on the couch she'd be right beside you or on your lap. She learned the habits of everyone and could tell what was up just from what you said or what you were doing. She loved going to work at Life Story Network® and seeing all her friends there. Pixel, Chester, Trixie, Chaplin (the rabbit), Ripley, Chewy, Conan, Daisy, Caesar, Cedric, Hollie, Milton and Izzy. And outside of work she had fun romping with Sadie Jane, Raquelle, Roxie, and Royale.
Gracie's favorite past times were playing with her soft yellow duck and lying in the sun while looking out the front door for chipmunks, birds, and squirrels. She loved ice cream, and popcorn too-with butter on it! Her favorite place to curl up was on top of a pillow-she was a princess after all! She also loved riding in the Beetle with the top down to go to the farmers' market and to the bakery for a donut hole on Saturdays.
Sweet, innocent little Gracie Sue was hit by a car Saturday, March 24, 2007 at about 6 p.m. X-rays showed severe injuries to the end of her spine and we had to put her down about an hour after the accident. She has left an emptiness that could only be filled by her. Gracie was a sweetheart to everyone who knew her and we loved her very much."
http://www.faithfulcompanion.com.php56-14.ord1-1.websitetestlink.com/wp-content/uploads/formidable/gracie-sue.jpg
260
356
http://www.faithfulcompanion.com.php56-14.ord1-1.websitetestlink.com/wp-content/uploads/2017/06/faithful-companion.png
2013-03-21 17:54:12
2013-03-21 17:54:12
Gracie Sue Bauschke