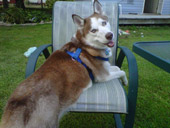 October 22, 2006 –
March 8, 2011 @ 12:20 pm
We brought D.O.G. (Dee-OO-Gee) home on January 7th, 2006 when he was 11 weeks old, and sadly we lost him on 3/08/2011 at the age of 4 years, 4 1/2 months young. He is deeply missed and our home is very quiet and void of his wonderful character, his Siberian singing and fang kisses (he did get better at giving kisses in the last year!)
We were drawn to him because he was a different color than other Siberian Huskies we had seen. Red & white, with goofy looking eyes (one went a slightly different direction than the other), and he was full of life from the first time we met with him. He was an itty bitty little fellow and since he was so small and his Siberian coat was not developed yet, we bought him a light blue jacket to wear – he quickly grew out of that!! He grew up to be a handsome dog and people would always comment on what a good looking boy he was! Of course those that knew him would learn of his outgoing character! I suppose some would say that's an understatement! He was quite a social butterfly! He loved people and other animals and had a hard time learning that not everyone was always as excited as he was right off the bat! A song that we sang to him was "When you're Smiling" because he smiled so much!!
He loved bright colored toys from his green stuffed puppy, Pierre the bright colored Giraffe, pink octopus, red squirrel, pink monkey and oh so many others! He loved any toy that squeaked and managed in no time to open them up in a particular location to get the squeaky out of them!
He loved his training classes and especially his trainer Gustavo! He would sit in the middle of class and howl and sing his Siberian song! We were thankful that Gustavo had the ability to speak loudly and we were grateful we did not get kicked out of class for his constant singing! He did very well on learning his commands and at the end of classes he looked forward to the play time with the other dogs! Ok, ok ….. He wanted to play even during instructions! He was a social butterfly!! Rocky was his best friend in this first class!
He had a large yard to explore in and loved to sleep outside. One time we woke up calling and looking for him and then…..his head popped up out of the snow with a puzzled look on his face – what do you humans want now!
He loved his girlfriend Serenity who came to live with us 9/28/07 – just before his first birthday. She taught him how to hunt/corner possums, rabbits and a few other things! Of course he was always protective of her! He would come and let us know when she was doing something that could get her hurt!
When daddy would come home from work he would hear his truck and the excitement led into a huge song and dance. He would sing from the moment he heard the truck pulling in the drive until daddy made it in the house so he could let him know how much he was missed! He helped his daddy in the yard and around the house all the time… whether to look over his shoulder to make sure it was being done the right way to helping when it came time to dig a hole in the yard — that is to say when it was OK to dig a hole in the yard!
He was a helper in the kitchen – imagine that! His first nickname was "Chef D.O.G."….. If anything was going on and someone was cooking in the kitchen or on the grill outside – forget everything else because the cooking and food was FIRST on his list of importance! I must taste test to be sure that it's truly edible!
Just before his 2 year birthday he started having seizures. At first they were small and quick but as time went on they became longer and fiercer. He was resilient to medication and in his final days his internal body was weakened. He had aspirated pneumonia and then we found out the he had insulinoma / pancreatic cancer. On Monday 3/7 he had blood in his urine and his red blood cell count was extremely low. He had always tested negative for diabetes, etc. He smiled through all the pain until his final days.
Our baby boy is in a better place where he is seizure and pain free, running (OK Charging!) everyone and rolling in the snow and leaves! He is eating his carrots and requesting a peanut butter Kong! Playing with all his bright colored toys and singing out loud in the Siberian Husky song. You are in our hearts forever. When You're Smiling…….
All our Love,
Momma, Daddy, Serenity, Grandma's and all your friends
When you're smilin'….keep on smilin'
The whole world smiles with you
And when you're laughin'….keep on laughin'
The sun comes shinin' through
But when you're cryin'…. you bring on the rain
So stop your frownin'….be happy again
Cause when you're smilin'….keep on smilin'
The whole world smiles with you
(instrumental break)
Oh when you're smilin'….keep on smilin'
The whole world smiles with you
Ah when you're laughin'….keep on laughin'
The sun comes shinin' through
Now when you're cryin'…. you bring on the rain
So stop that sighin'….be happy again
Cause when you're smilin'….just keep on smilin'
And the whole world gonna smile with
The great big world will smile with
The whole wide world will smile with you
http://www.faithfulcompanion.com.php56-14.ord1-1.websitetestlink.com/wp-content/uploads/formidable/dee-o-gee.jpg
128
170
fcmadmin
http://www.faithfulcompanion.com.php56-14.ord1-1.websitetestlink.com/wp-content/uploads/2017/06/faithful-companion.png
fcmadmin
2012-04-23 10:29:50
2012-04-23 10:29:50
D.O.G. (Dee-O-Gee)