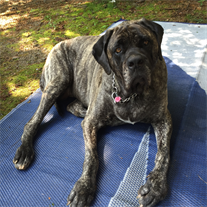 We drove up to a farm style house outside the Orlando area, not sure what we were getting into. It was a nice, hot summer day. We were greeted by the owner and his girl. His girl was sweet, but she had that "tired" look. She was a worker, a mom that helped provide for the home. Looking back, she provided too long and should have retired a couple years prior.
After a couple minutes of the meet and greet; from around the corner comes an awkwardly walking yet to be named Jojo. It was our first meeting. The look on Lisa's face when she saw the mom was "OH OH", but when our girl walked around that corner, all wet from lying next to the AC unit in the shade….. Well, it was over, the decision was made. Neither Lisa nor myself had ever owned a giant breed (she weighs in at 220). We were nervous, but we fell in love when we saw our girl, so we had no choice….
Jojo came home with us that day. She changed our life, she changed my life.
On June 8th, she was diagnosed with osteosarcoma and we found out she would have to leave us soon. She was such a sweet girl. I can't tell you how much I miss her. I can't put the pain or grief into words. So I'm trying to remember and relive the journey.
We embark onto this journey knowing this day is inevitable, knowing that if all things fall into natural order, they will leave us before we leave them. We do it cuz of the love they give is unconditional. We do it cuz if we didn't…. Who would? We do it cuz there is nothing like having a shit day and still coming home to a wagging tail that wants nothing from you other than a hug, a pat on the head, a belly scratch, a kiss and to leave you with a big drooly mess all over your dress shirt and slacks (I'll miss that).
There was a steak dinner, with her name on it, served and she gave us many, always cherished memories her last few days, just like all her years prior.
You'll always be "My Girl" Jojo… Love you,
Your Human Dad
http://www.faithfulcompanion.com.php56-14.ord1-1.websitetestlink.com/wp-content/uploads/2017/07/Jojo-1497425177.png
207
207
fcmadmin
http://www.faithfulcompanion.com.php56-14.ord1-1.websitetestlink.com/wp-content/uploads/2017/06/faithful-companion.png
fcmadmin
2017-06-10 00:00:00
2017-07-14 09:15:08
Jojo