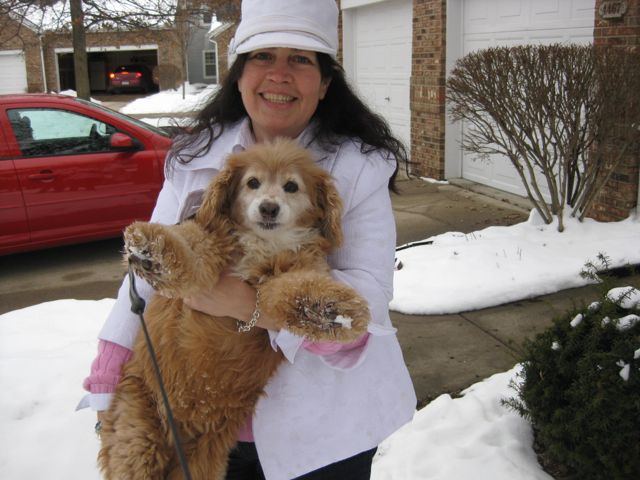 I have many fond memories of you Cookie!
Going for walks, dog parks, stores, restaurants, swimming, playing, traveling but the best one – just cuddling with you!
You were LOVED by so many people! You brought JOY to EVERYONE!!! You could go no where with out countless of people passing by making ohhhh's and ahhhhh"s sounds about you and always stopping to pet you both adults and children!
You always put a smile on thousands and thousands of people especially when you would visit the sick! You gave them a hope and joy!
You brought true happiness to everyone but especially to our brother! He LOVED and ADORED you so much! You were his EVERYTHING!!!!! You both showed each other LOVE and JOY!!! You ALONE was his COMPANION and his HAPPINESS! Thank you Cookie for that!
I never got to say "Happy 20th Birthday" to you Cookie, that you just recently celebrated! "Happy 20th Birthday to you Cookie!" Thank you for the Amazing AND WONDERFUL 20 years of your life that you gave to make so many HAPPY and filled them with JOY especially to your DADDY Greg! You gave him TRUE HAPPINESS, LOVE and ENDLESS JOY! For that- Thank you!!!
You have left a deep sadness in our hearts especially your DADDY- Gregory!!!
You will be deeply missed but all of our memories will continue on and stay close in our hearts! You were the BEST DOG EVER!!! Love you- Aunt Jane
http://www.faithfulcompanion.com.php56-14.ord1-1.websitetestlink.com/wp-content/uploads/formidable/IMG_4067.jpg
480
640
http://www.faithfulcompanion.com.php56-14.ord1-1.websitetestlink.com/wp-content/uploads/2017/06/faithful-companion.png
2014-08-25 16:12:21
2014-08-25 16:12:21
Cookie