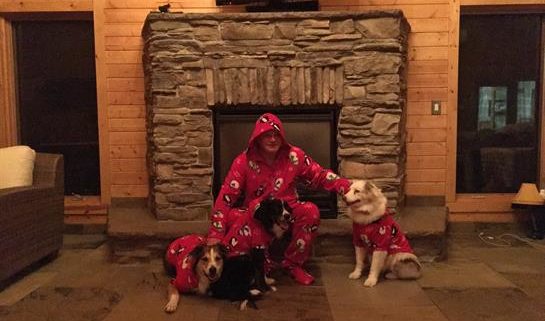 13 years ago we did not have any dogs. Bernd decided he wanted a small dog to enjoy rides with us on the pontoon boat. We started researching breeds, and when I asked him what he was looking for he said "I want the smartest dog", well that means we are looking for a border collie. 13 years ago we did not google everything, so we grabbed the local paper and there was an ad for border collie puppies……and they were located just around the block from our home. So we called and there was only 1 puppy, the runt, that had not found a proper border collie home. We went over to meet her, and that's when we found our beloved Cabo. The breeder stated "she won't go to anyone" well that was until she picked my husband, she followed him around their yard, she was meant to be our dog and more specifically his heart dog.
We had NO IDEA what we were in for……busy, busy, busy girl. So we started puppy obedience classes, as with border collies learning came easy to her. She did not want anything to do with the other puppies in the class during socialization time, she sought out every person that was standing around the outside of the exercise pen. She LOVED people and everyone that met Cabo loved her too.
We will miss her and her quirky border collie behaviors. We'll miss her meeting us at the door crying with excitement as if we'd been gone for years. We'll miss her border collie lean that required hugs and pets until she decided we were loved on properly. We'll miss her barking at us when we sneezed and apologizing to her for that noise that needed to stop. We'll miss her "mother hen" barking at her brother and sister when they acted like dogs, because they should behave. Herding the vacuum cleaner, having to spell words(although she knew how to spell) so we could sit down for 5 minutes, stalking us from behind her tree. Seeking comfort when the thunder started or fireworks were going off. The running back moves that left Dakota running in circles, while you shot off in the other direction.
Cabo was diagnosed with a soft tissue sarcoma in her front left leg in October of 2016. We chose not to amputate her leg because of the condition of her hips. She underwent palliative radiation which reduced the size of the tumor, reduced her pain and inflammation and gave her back full use of the leg. The tumor did weaken the bone and on 6/20/2017 while playing her leg broke and there was nothing we could do to control that pain, or repair the break due to the cancer.
We are thankful, blessed and grateful for the unconditional love you showered us with for 13 years. The bravery you showed us as we treated your cancer. Cabo you gave us more than you'll ever know…..you'll be FOREVER in our hearts and we'll miss you each and every day. Run pain free with your ball at the Rainbow Bridge…..GOOD GIRL!
http://www.faithfulcompanion.com.php56-14.ord1-1.websitetestlink.com/wp-content/uploads/2017/07/066aad10-d612-4ca6-940a-c508c5aabc64.jpg
408
545
fcmadmin
http://www.faithfulcompanion.com.php56-14.ord1-1.websitetestlink.com/wp-content/uploads/2017/06/faithful-companion.png
fcmadmin
2017-06-20 00:00:00
2017-07-14 09:15:08
Cabo